Creative Crafter & Blogger, Priyanka Rajwar, had a wonderful idea and used Templetree's handmade paper to design a custom-made jewelery cabinet!
Here are some excerpts from Priyanka's Blog...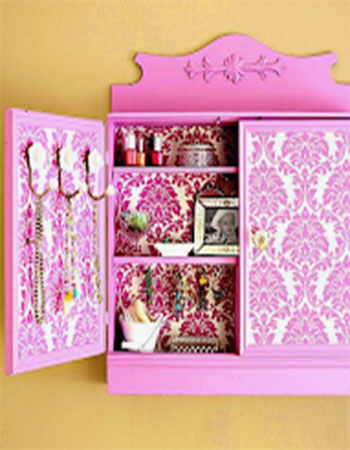 "I found really good cabinets available for sale online in most countries but India. There were many convenient designs and patterns to choose from, alas, I couldn't have any shipped to India without paying a substantial sum in custom and import duties so I thought of getting one customised here. Pinterest came to my rescue and I surfed through numerous DIYs for Jewellery boudoirs and pinned a few that I liked.
After much research, I knew exactly what I wanted. The cabinet had to go on the wall in my bedroom but it would've hung there looking like an ugly cabinet in the middle of nowhere. After much thought it dawned upon me that I can customize the door since everything is getting built from scratch anyway.
A friend helped me put a collage of some family pictures. For the base I bought beautiful handmade paper from #Templetree boutique in Bangalore and voila! the screen background was set. A carpenter was hired thereafter and the project started taking shape."
Read more about Priyanka's project:
Get inspired with these amazing cabinet makeovers using printed paper sheets…